MX-Designs 3-Way Systems


What makes you think an audiophile quality 3-way system is out of your grasp?


Too complicated? Labor intensive Factory speaker locations are restrictive? MX-Designs MX-3 Systems install effortlessly and get you on the fast tract to audio nirvana in the car. How Is It So Easy?


The 4 facets of MX-Designs

Flexibility. We can't stress this enough against competing systems. These systems can be tailored for anything you want, even as a2-way that can be upgraded to a 3-way.
The most powerful and flexible 3-way/2-way crossover on the market, the MX-1000SX.
The incredible 2" mid/tweeters, available in flush mount or pods. Quick installation on to the kick panels or in a factory midrange location.
1" Imaging tweeters that install with literally zero holes to drill.

What makes this possible is a new unique engineering marvel which opens the door to the unique and easy installation of a variation of front-mounted 2 or 3-way systems using mix of speaker components and adjustability and tuning you never been able to do before the born of the uniquely designed MX-1000SX crossover.
This incredible ultra flexible E.Q. module will act as a 2 or 3-way crossover depending on your specific system installation. This unit is specifically oriented to the use of very small 2-3 inch midrange drivers in a two or three way system.
This unique crossover marvel offers interactive crossover to and adjustability of the mid-range and tweeter and a switchable conventional second order or high-tech elliptic filter to cross over the tweeter. New and unprecedented functionality in this unit is highlighted by this dual-order, tweeter crossover.
BMW 330CI MX-3HDPod System Installation: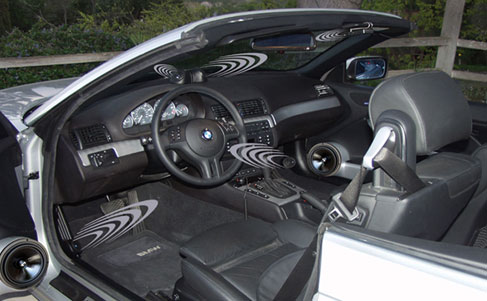 BMW X3 MX-1i Image Tweeter/ CS-020X Center Stage Install
BMW X3 MX-1i Image Tweeter Windshield Mount


BMW X3 MX-2Pod 2" mid twtr kick panel mount

BMW-X3 MX-2 2" mid-tweeter
door mount